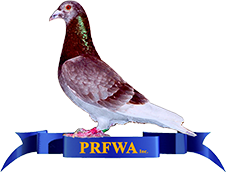 The history of the Federation was substantially collected by the late Mr A (Bert) L Sampson, past President and Life Member of the Pigeon Racing Federation of Western Australia (Incorporated). Apart from holding high office, he was many things to many people behind the scene and was a tireless and selfless worker. Bert was a retiring sort of person, not wanting to force himself on any situation, but his love for his organisation, his members and not least his pigeons, made his contribution to the sport almost unsurpassed in the history of the Federation. Bert's collection of historical documentation extended beyond the immediate Federation back to his pre 1958 Kalgoorlie Goldfields days and from elsewhere too.
On Tuesday 16 September 1980 Bert retired from active pigeon keeping and passed on his collection of historical documentation to myself and I have kept the seat warm in the role of Federation Historian to present day. In 1984 to mark the 50th anniversary of the Federation an offer was made to the Board to have the documentation put into a commemorative booklet form, rather than gather dust in boxes, but, unfortunately, was not taken up. Now with the advent of Internet and the Federation's own web site, it would seem appropriate to post it here and this will be done over a period of time.
It has been said that history is bunk. It has also been said that "If you don't know where you've been, how do you know where you are going?" History can simply be an interesting collection of facts, or it can be serious business, depending on the circumstances. Some things, like long term agreements, precedents and simply facts, to settle an argument, may only be found in the archives and is important for the good operation of the Federation that it be there.
Leo Turley 1999.
BONZO
The use of the pigeon photograph seen here as part of the Federation's title and logo is by kind permission of Mark Stanbury, another tireless worker for the racing pigeon fraternity in Western Australia.

The pigeon's name is Bonzo and he was owned and raced by Mark in the 1970's. Bonzo was noted for his unusually large size, as well as being a remarkably successful pigeon. Bonzo was highly respected in Mark's club for his racing ability, especially when there was pool money to be won. Whenever Mark produced Bonzo at race marking, other fanciers insisted on handling him and it was well known that when he felt great in the hand, then everyone pooled. Conversely, if he handled poorly, then only fools didn't keep their money in their pockets, because in that condition Bonzo was unbeatable.
ANIMUS
Anyone that has been fortunate enough to receive a Federation certificate will notice a photograph of Blue Bar Cock 'Animus' looking out of the background in the right hand top corner. Animus means courage, in Latin, and Animus won the Metropolitan Club (much later to become part of the Amalgamated Club) Derby, in 1927, for a Mr George Withers. The printers block of Animus was presented to the club by Mr A G O'Keefe (Printer, Subiaco) who was the club patron at the time.