GEORGE AZAR
FAMILY MAN AND PIGEON FANCIER

---

If George Azar's success in the past four years were to be described in horse racing parlance, then he has come out of the ground, won by panels of fencing and is still pulling away. The Azar success is nothing short of phenomenal and comes from sheer determination and a will to make it so and in short is a pleasure to bring his accomplishment to the attention of the fraternity.

The latest run started in 1999 with a 4th in the tough WA Pigeon Racing Federation Flyer of the Year competition against 150 odd flyers and improved to 2nd in 2000 followed by back-to-back wins by 111 points and 160 points respectively for 2001 and 2002. In the past two years it has been a virtual one horse race and George confided in me that in this last season the birds basically did it themselves, as he had other issues to contend with. It just goes to show that if the environment and the regime are right, then the birds can really do it themselves.
To look inside George's new loft is like taking a cold shower reality check. A reminder of what it used to be and what it has to be to be successful. Spacious and light with lots of controlled fresh air and no dust or droppings. For asthmatics and 'dusted' fanciers this loft is the answer to their prayers. It is not surprising that George elevated himself from the good flyer classification to phenomenal, as soon as the new loft was commissioned for the 2001 season.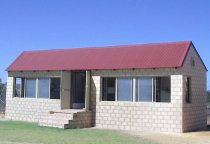 The present started out as a plan back in 1996/97 when George and his lovely wife Linda and their four girls moved to their new and spacious home in Jandakot, some 15 kilometres south of the city. This article is about George, but it really is a family affair and could well have been written in the plural. The 'secret' of the loft is there for all to see. 11 metres by 3 metres of conventional partitioning sitting atop a 1.5 metre fully enclosed pit, separated by a steel rod floor and an overhead gable style roof with the Bradley Phillips introduced, Steven Van Breemen designed, air extraction system overhead and running the full length. Minimising cleaning time is important and the floor of the pit is overlayed with rolled out butcher's paper, much the same as used in the club race baskets. Once a week it is simply rolled up and put in the rubbish bin, droppings, feathers, dust and so on and is all very clinical. In conventional terms George's above floor loft provides approximately one cubic metre of air space per bird, which is a perfect combination, but if there is a secret to his success, then it has to be the further 40% air capacity derived from the underfloor pit and there are no drafts, other than that generated from the ventilation system. A generous 1.2 metre passageway also runs the full length of the loft and is serviced by sliding glass windows and end form-fitting louvres. Every nook and cranny throughout the loft is poly-sealed to help maintain the internal atmosphere, which is invigorating and the air extraction system is like standing under a battery of ionisers. It becomes very obvious why the birds are in such a picture of health.
And this will surprise readers, George has no imports and doesn't see a need for them. He feels that the performance gap, which he describes as the multiple non-performing generations between the actual imports going to studs, the sale generation, and the breeding generation to eventually put a bird into a race basket, is too great, in his humble opinion. In a lot of respects, he feels that the apples are falling just a bit too far from the tree for his liking, although he acknowledges there are some very good imports out there, nevertheless. In fact, George hasn't changed his birds much since he started back in the game in 1985 and looking at them now they are predominantly medium to small, tending to apple body, with good strong rumps and is a feature he always looks for.
George was a Mt Hawthorn lad and his first brush with pigeons was during 1971-72 and for those that remember, he prides himself as being a Danny Breadsell Junior in the Northern Suburbs Club and that speaks volumes for both. The late Danny Breadsell was the Pied Piper of junior pigeon fanciers and his long dedication to 'his boys' and his other work, both at club and federation level, earned him a Life Membership with the PRF of WA back in the 1960's. Danny's early example influenced George to take up the junior project, himself, over the past 10 years, but he laments that juniors are not coming through in encouraging numbers these days.
Another thirteen years were to pass in which George completed his apprenticeship as a Motor Mechanic and filled in his spare time as a 'petrol head' - fast cars were the go, and he did all the other things young guys do, until he eventually tied the knot with his long time sweetheart Linda in 1980. As often happens, marriage slows the pace down and George again started seeing birds flying overhead and noticed the occasional article in newspapers and the embers of the Breadsell legacy were beginning to fan, but for the first four years he and Linda lived in a duplex, so it was not possible to keep pigeons. In early 1985, they moved to a house in Hamilton Hill, in the southern suburbs of Perth, and finally pigeons again became a reality. Not long after that, George introduced himself to the Fremantle Club and he was soon embraced by some of the icons of the game and he warmly remembers his long time friend the late Clem Christiansen. George also speaks very highly and fondly of Frank Bunter and describes him as one of nature's gentlemen, and Frank gave him an excellent pair and from which the descendants still figure in his loft today. His mentor and very good friend, Joe Marciano, helped out with birds and advice and is still there for him today. Joe introduced George to the South Australian Elvin's and also birds down from his foundation pair that produced winners all over town. The grizzle cock, PRF. 70.11 1st Zanthus and the hen PRF.71.6123 1st Rawlinna. How time flies - it's almost 20 years since Joe sold his stock birds and not much less than that since he stepped out of the game altogether. I know Joe well - we went to school together and raced pigeons as boys in Collie in the mid 1950's. The other link in George's old Aussie family might well be known by some of the longer serving Sydney fanciers in the late E A (Ted) Stevens and his close friend Billy Coles. I remember Ted as a very good friend and ally and Ted passed away suddenly the day before the 1986 Federation Young Bird Derby from Widgiemooltha 560kms. The birds were already on their way and the family timed in for him and it was the strangest thing. Ted's first bird romped the Derby in and was something he had always wanted and missed out by one day to witness, although some fondly believe he must have been up there flying with them. Anyway, Ted's well-supported clearance sale, some 7 weeks later, saw George in the frame looking to put a tiger in the tank. LOT 8, a 16 year old cock, CC.70.174, with the only comment in the catalogue margin, "W (Bill) Coles", was being passed in as too old and so up shot George's hand. In fact the bid then started going up in one-dollar increments, until the auctioneer said he couldn't be bothered slaving over this thing any further and banged his gavel down, "Sold to Mr Azar, $12.00!" It virtually says it all these days to find the Billy Coles Cock in almost all George's pedigrees, as the obligatory cross for his now inbred Bunters, Marciano Elvin's and the George Smith white Raconteur cock and he says the more inbred they are, before that first cross Coles click, the better they get. If any reader could solve the mystery of the background of old 174, George would love to know, as he was a gem for the short time he had him. George added that he died sitting on eggs after only filling three, but that was enough to set him up.
While on the birds, I had the pleasure of handling George's 2001 Federation Young Bird Derby winner from Cue 580km, RCH PRF.00.2027 956mpm - it was a tough race and shows the strength of the Red Marciano Elvin influence, in fact the Elvin story is an enigma in its own right. This lovely red hen is medium size, apple-body, and a rich eye, which George confesses he likes a good eye, but doesn't follow eyesign. He considers the basket is the judge of a strong character and he sets his plans accordingly. I also handled his dual Federation topper (Wannoo 600km, 2001, and Overlander 650km, 2002) BBC.99.6250 and a very nice type too, but on this occasion he was bred by his good friend and ex club mate Geoff Edwards, who gave him the bird, as a youngster, on finishing up. It seems fitting that the bird is likely to be bred down from Geoff's Balladonia 700km winner, only Fremantle bird on the night, as granddaughter of the Marciano foundation pair mentioned above. It's a small world and it also sends out a very strong signal to the fancy that home grown birds can and still do hold their own at the very highest level of competition. In fact, given the right environment, feeding and training, any bird will give of its best and is a lesson to be taken on board. On both occasions, 6250 topped the Fed while he was sitting eggs and provides testimony that the old Aussie birds can fly this way too. George said he came like a rocket, through the open door, a quick drink and back on the nest. The Wannoo event was a solid 1000 mpm and the Overlander was a fast 1695mpm and in this latter one 6250 was in front of the field by a good 35mpm.
Long distance racing, or as he puts it, "two day racing" is George's preference and certainly the birds are built for the task and is really the hallmark of the old Australian families. He does however, acknowledge the unpredictability of overnight racing and of course worries about the impact that the new Animal Welfare Act will have on the longer races and can see some compromises in the pipeline.
George is not into secrets, so I was able to ask the right questions and get the right answers on his methods, including feeding. He feels his feeding method could be a little unorthodox for local conditions, but it suits his birds and his training regime. During and leading up to early racing he feeds at the rate of 40% peas and 60% carbohydrate (mostly wheat) and reverses the quantities, once Thursday night basket starts for the longer events. George also feeds a lot of high-energy oil seeds (sesame seed, linseed, safflower etc) generally obtained from a health store and at the rate of about 8 ounces to a 70 bird feed lot.

Leading up to and during the season the birds are made to loft fly for a minimum of 45 minutes by flagging, until they get the message and begin to range, and then the flag stays in full view until the 45 minutes is reached. He finds that once this regime is in place the birds work in a genuine manner and it keeps them healthy and interested and he also adds, and out of reach of the resident falcon. Each week all birds are tossed at 60 kms and during the week the candidates for the coming weekend are tossed from work (Kewdale 21 kms) three times. Hens first and cocks five minutes later. Linda, who is very much the partner in this operation, is home at the loft to tend to the arrivals and George says that when they start to genuinely arrive five minutes apart, then he thinks about pooling, because he then knows they are coming into form.

One cannot write about George Azar, the man, without mentioning his wider passion, the Federation. George is long time President of the Pigeon Racing Federation of WA and is indicative of his love of the sport and strength of character that he can endure this thankless task for so long and simultaneously race good pigeons. George is quick to credit his family as the source of his energy and he has certainly had much to contend with over years. In fact, I asked him what he disliked most in the sport and he responded by noting a decline over the last ten to fifteen years of comradeship and more so the decline in sportsmanship, which seems to be a sign of the times.

I asked him where he saw the sport heading and sadly he doesn't see a lot of positives. The lack of juniors, and society's general "rats-with-wings" mentality towards pigeons in suburbia and of course the new WA Animal Welfare Act, all collectively weigh heavily on how we are going to fare in the future. He feels that both feds need to come together, and soon, so they can pool resources and fly the same program to keep the costs within reach of the ordinary flyer. He thinks that whatever the impediments we can get through them and even maintain separate identities, as long as it facilitates the 'marriage' for the good of the sport.

I must say I spent a very enjoyable morning in the Azar home, with Linda the perfect hostess and thank you most sincerely Linda. Of course I had to ask George the burning question "where to from here?" And very philosophically he responded that the view's great from where he is standing, but there's always new fired up flyers coming along and nothing can be taken for granted in pigeon racing and certainly nothing is handed out on a plate. Naturally, he says they will be giving it their best shot for 2003 and I am sure they will, and I am equally certain they are going to be a force to be reckoned with, for some time to come.

Well done Linda and George Azar!